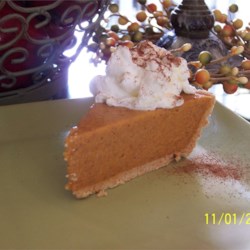 No Bake Pumpkin Pie
Pumpkin reigns when it comes to Thanksgiving pies, but pecan, apple, lemon chess, and others are favorites too. The good news: Pie crusts are one thing that can be made in advance! In fact, pie pastry can be made in advance and refrigerated for two to three days, or frozen for up to two weeks. Ready-made pie pastry purchased in the refrigerated dough section of the supermarket can also be frozen until ready to use. Frozen pie crusts are best used within one month.
If the recipe calls for a "blind-baked pie crust," simply fit the pastry into a pie pan, prick the bottoms several times with a fork, and line it with aluminum foil or parchment paper. Fill it with pie weights, dried beans or rice. Bake the pie shell in a preheated oven at 425 degrees F (220 degrees C) until the edges begin to turn golden, about 8 minutes. Take the pie out of the oven and remove the weights and paper and foil, and return it to the oven and bake until the bottom is just lightly browned, 3 to 4 minutes. Then it's ready to fill with a luscious filling.
Pumpkin is the traditional Thanksgiving pie flavor, although pumpkin pie was not served at the first Thanksgiving. (More likely it was some form of squash.) If using canned pumpkin, choose between 100% pure pumpkin, to which you add spices, or pumpkin pie filling, with spices already included. And if you're making fresh pumpkin pie, be sure to use small sugar pumpkins that appear in most markets in early October. These are superior to jack-o'-lantern pumpkins, which can be stringy and coarse-textured.
To cook, cut the pumpkin in half and remove the seeds and stringy bits. Chop the large pieces into smaller ones that can then be boiled, steamed, roasted, baked (covered), or even cooked in a microwave. The pumpkin is ready when soft and easily pierced with a fork, much like potatoes. Scoop the flesh from the shell with a large spoon and discard the shell. Purée the pumpkin flesh in a food processor, food mill, or blender until smooth. It can be used as is, stored in the refrigerator for up to one week, or frozen for up to six months. If using frozen pumpkin, thaw in the refrigerator overnight, or for immediate use, in the microwave.
If making apple pie, you'll need approximately 2 pounds of apples. You can save on preparation time by purchasing frozen sliced apples; they can be used for pie while still frozen.
Some of our favorite Thanksgiving pie recipes are:
Homemade Fresh Pumpkin Pie
Apple Pie by Grandma Ople
Chocolate Bourbon Pecan Pie